Tech & Product Development
·
Stockholm
·
Hybrid Remote
Agile Coach
WE ARE A BIG COMPANY WITH A STARTUP MENTALITY. JOIN US ON AN EXCITING JOURNEY!
Odevo is a group of exciting brands with a shared vision of challenging the status quo in the property management industry. We're committed to revolutionizing the industry with innovative software solutions that make managing properties easier, more efficient, and more effective. Our cloud-based platform is unique, and we have proven ourselves as a leading and innovative player in a brief time. Our global product development department acts as a SaaS supplier to all the companies in the Odevo group and several other players in the industry. Together, we will continue to challenge and change this industry. To continue our ambitious growth journey, we seek more great people to join us to build market-leading property management software products. Are you one of them?

About the role
As our Agile Coach, you'll play a key role in coaching our Nordic teams (currently 4) in our transition to a more outcome-driven and value-creating approach while nurturing a culture of ownership and initiative. You will guide our teams and individuals to embrace Agile practices and ways of thinking. The aim is to help teams collaborate more effectively, foster openness, and consistently deliver top-notch products and services for both customers and colleagues.
Our product development department is experiencing significant growth and is home to an engineering team of 90 highly skilled professionals. As an Agile Coach, you'll work closely with a small, talented team of Agile Coaches under the leadership of our Head of Delivery. Your collaboration with the Agile coach-team will contribute to your professional growth, and together, we aim to create an environment that encourages innovation and teamwork.
Your key responsibilities will include:
Work close to and sometimes within teams as a Scrum Master to boost our journey towards having empowered and high-performing teams.
Establish and implement good practices, fostering collaboration across the organization.
Collaborate with leaders to align business objectives with Agile practices.
Drive continuous improvement of Agile processes through experimentation and adaptation.
Provide training and mentorship to onboard and support new development team members.
Coach and mentor teams, Developers and other key contributors including Product Owners, Architects and Managers
Who you are
You are an inspirational coaching leader with the ability to mentor and lead diverse teams of engineers. Your strength lies in creating a collaborative and psychologically safe environment, and you possess the unique ability to establish and nurture trust effortlessly. Collaboration is a key aspect of our organization, and we are looking for someone who can thrive while working harmoniously across departments and engaging with stakeholders at all levels. You have excellent communication and interpersonal skills, with a demonstrated ability to effectively communicate complex ideas and concepts to both technical and non-technical stakeholders. Furthermore, experience in a fast-paced, high-growth environment will be highly regarded, as it demonstrates the ability to thrive in dynamic settings.
Experience
You have a background as an Agile Coach and Scrum Master, boasting several years of experience in guiding teams towards successfully adopting Agile methodologies.
Experience working with product development teams.
Proficiency in data-centric, user-centric, problem & product discovery.
Expertise in tailoring collaboration processes between teams.
What we offer
Remote friendly - you'll be part of a team that values collaboration and communication, regardless of location.
Professional growth - to work with the most talented developers in the industry.
Modern technology - we invest in the latest technologies and tools and encourage our team members to share their ideas and take ownership of their work.
Innovation - to work on exciting projects that push the boundaries of our industry and make a real impact.
Commitment to quality - a dynamic and forward-thinking company that values profitable and long-term product development.
Location
While we're remote-friendly, we find great value in being able to connect with our teams in person, most of whom are located in the Stockholm area. Our headquarters is on the top floor of the newly built Sthlm 04, which offers stunning views over Stockholm.
Excited?
If you are excited about being part of a successful team, we encourage you to apply for this position.
Competence

Locations

Remote status

Hybrid Remote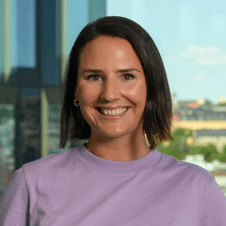 Contact
Annie Fridén
Talent Partner – Tech & Product Development
Tech & Product Development
·
Stockholm
·
Hybrid Remote
Agile Coach
WE ARE A BIG COMPANY WITH A STARTUP MENTALITY. JOIN US ON AN EXCITING JOURNEY!
Loading application form